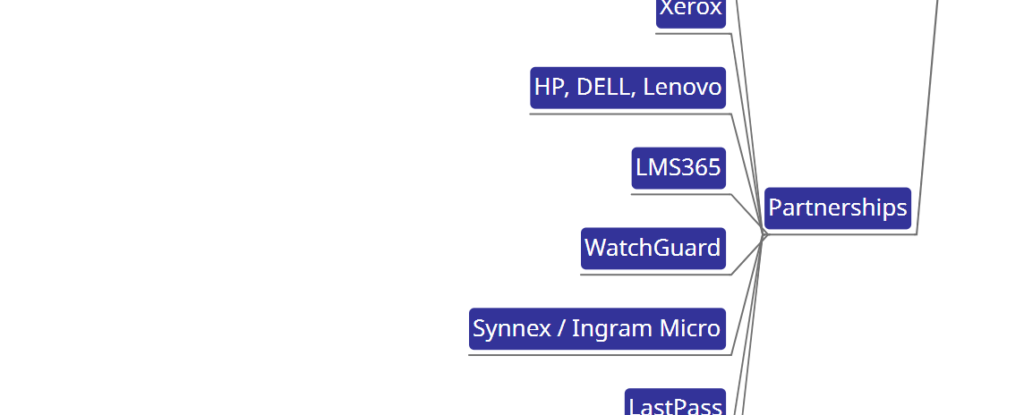 Over the years, we've developed relationship with vendors that help us create a secure, flexible, cost-effective, and streamlined infrastructure – practically for any purpose.
Microsoft provides all cloud services, from email and document management in Microsoft 365 to custom datacenter solutions in Microsoft Azure.
HP, Lenovo, and DELL deliver hardware for the office and remote workers. We've picked the best machines in every tier – from information worker to CAD designer.
Xerox handles physical document input and output – from scanning to SharePoint to printing in large office environments. We've selected equipment for the office and for the remote worker, and Xerox makes toner management a breeze with automatic delivery or on-demand procurement via online tools.
LMS365 provides an easy-to-use, Microsoft 365-integrated learning management system that can help with employee on-boarding, upskilling with existing SCORM materials, or development of in-house training. Optional integration with Go1 gives your company a subscription-based access to thousands of learning courses.
LastPass provides an enterprise-grade vault for storing company passwords – and sharing them securely within and outside the organization.
WatchGuard is our answer to your network, wifi, and computer security. A single management console gives you details on potential threats, and end-point detection and response (EPDR) is the new requirement for most insurance companies in the realm of cybersecurity.
Yealink, a leader in communication technologies, will outfit your conference rooms with cutting-edge videoconferencing technology, while also offering a wide range of devices – VOIP phones, portable audio conference devices, or headsets for any level of information worker.
We can find almost any product out there due to our partnership with TD Synnex and Ingram Micro, two of the largest distributors of hardware and software in the United States.